China
Officials: Shanxi to take environmental protection as priority
Source: CCTV.com | 03-13-2007 10:12
Special Report: 2007 NPC & CPPCC sessions

Luliang City in North China's Shanxi Province has destroyed or shut down more than 170 small, poorly equipped coking plants which failed to meet environmental standards. Shanxi officials say they will continue this effort to improve the environment.
This small coking plant worth three million yuan is one of a 175 similar enterprises closed by the Luliang city government this year.
<!a href=# target=_blank>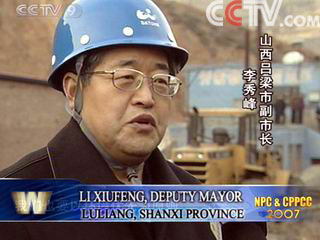 <!a href=# target=_blank>
Li Xiufeng, deputy mator Luliang, Shanxi province, said, " Whatever losses and difficulties we may have, we'll take environmental protection as a priority."
Shanxi Province started this endeavor last year with a decision to inject an equivalent of more than 10 billion US dollars into environmental protection over the course of five years. The efforts have already paid off. Last year, the province reported economic growth of more than 11 percent, but says pollutant emissions dropped by nearly three percent. This progress, coupled with the planting of more trees, has helped restore the people's confidence in their future.
Fu Changwang, retired miner, said, " We're doing this because we want to see a blue sky. Younger generations will thank us for planting these trees. "