China
Chinese top legislator speaks highly of HK, Macao government performance
Source: Xinhuanet | 03-08-2007 09:31
Special Report: 2007 NPC & CPPCC sessions

<!a href=# target=_blank>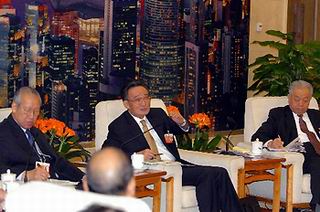 <!a href=# target=_blank>
Wu Bangguo (C), Chairman of the Standing Committee of the National People's Congress (NPC), attends the panel discussion of the deputies from south China's Hong Kong Special Administrative Region (SAR) to the Fifth Session of the Tenth NPC in Beijing, capital of China, March 7, 2007. (Xinhua Photo)
<!a href=# target=_blank>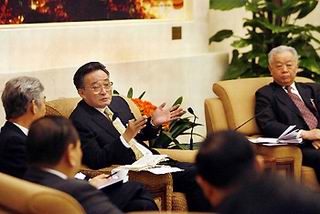 <!a href=# target=_blank>
Wu Bangguo (L, back), chairman of the Standing Committee of the National People's Congress (NPC), attends the panel discussion of the deputies from south China's Macao Special Administrative Region (SAR) to the Fifth Session of the Tenth NPC in Beijing, capital of China, March 7, 2007.(Xinhua Photo)
BEIJING, March 7 (Xinhua) -- China's top legislator Wu Bangguo on Wednesday spoke highly of the performance of the Hong Kong and Macao governments, saying they have led the two special administrative regions toward a prosperous future.
The two regions have enjoyed booming economic development and won trust of the public and investors, said Wu, chairman of the Standing Committee of the National People's Congress (NPC), at panel meetings of the parliamentary annual session which opened on Monday.
Local residents of the two regions are contented with their living and working conditions, said Wu, also a member of the Standing Committee of the Political Bureau of the Central Committee of the Communist Party of China.
Facts have proved that the governance principle of the Hong Kong authorities led by Chief Executive Donald Tsang Yam-kuen, which stresses economic development and improvement of the people's livelihood, fully conforms with the region's practical situation and public fundamental interests, Wu told the national legislators from Hong Kong.
The central government will show full support to the rule of law by the Hong Kong government and further promote exchanges and cooperation between the mainland and Hong Kong for the region's prosperity, he said.
While addressing legislators from Macao, Wu said the central government is very satisfied with the performance of Chief Executive Edmund Ho Hau Wah and the Macao government, hoping that local people from various social circles continue to support the work of local authorities.
Wu encouraged the NPC deputies from Hong Kong and Macao to play more active role in local politics and set an example for implementing the Basic Law of the two regions.
Editor:Du Xiaodan